... popsicles?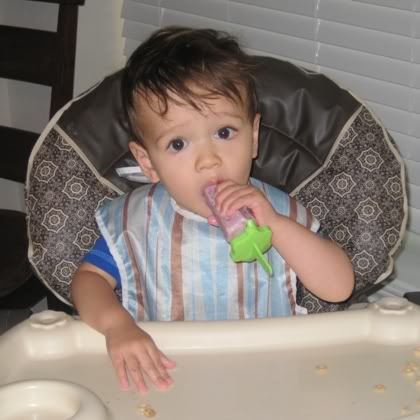 Noah hasn't been feeling well for the last several days, and he's been eating poorly. So I had the bright idea to make him some smoothie popsicles with yogurt and bananas and blueberries. He thought it was pretty cool, but he had a hard time holding it himself. So either I held it for him, or he gripped it by the cold part. In the end, I think more melted onto his hands than into his mouth before he got bored with it. But it got me thinking, is there a better* popsicle mold for toddlers out there? Leave me a comment if you have suggestions -- I'm all ears. This mold is just the standard issue from Target that I picked up yesterday when inspiration hit.
For the record, he guzzled down quite a bit of non-frozen smoothie after he gave up on the frozen one, and that was enough to whet his appetite for some real food. Success!
*For Noah right now, this mold is too big, the pop is too top-heavy, and the stick is too small.