We went to Hamilton's Pool this weekend with my sister's family. It's a natural spring-fed pool where an underground river caved in. The trail down from the parking lot is rocky and steep (especially carrying an extra 22 lb tub-o-giggles), but the hike was worth it. We all had a lot of fun and ended up staying longer than we thought Noah would let us. Noah's favorite part was throwing rocks into the water. Here are a couple of photos:
He looks like he's falling in, but he's really throwing rocks: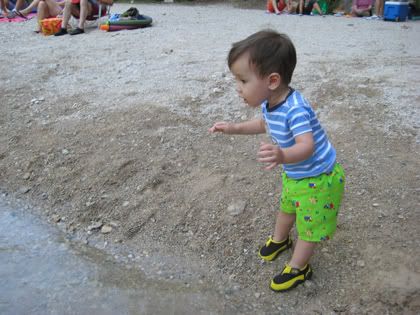 Those tiny dots on the boulder are Noah's cousins, who swam to the other side of the pool: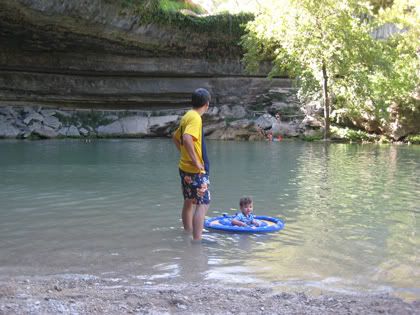 We hiked around the grotto (on the left of the photo above). This might have been a good family photo, except for the expression on Noah's face!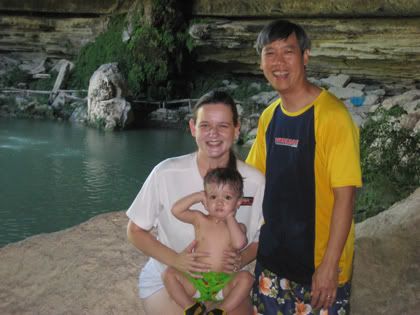 The trail around the back side of the pool gets really narrow. The rock right behind Dave is so close to the wall that you have to lean over and walk sideways to get past. That was challenging to get Noah through!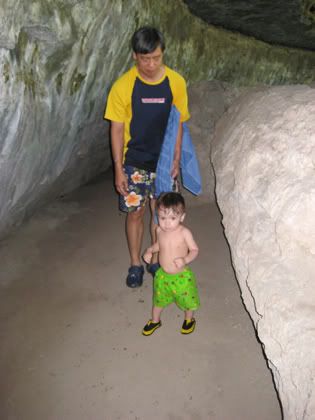 We also hiked down to the nearby river. Here's Noah and Dave watching the little fish swim by: